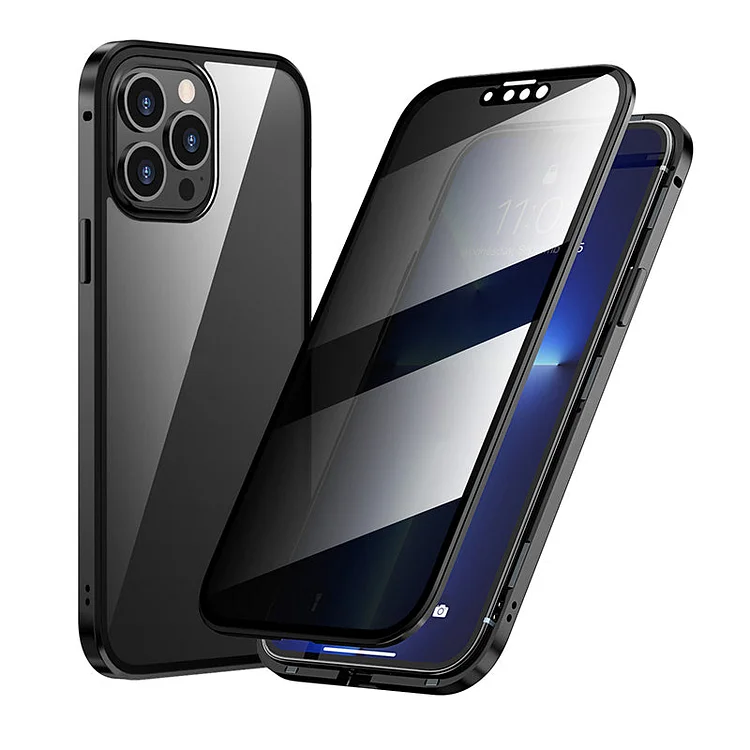 About this item
Special Feature Slim Fit,

Magnetic, lens protector

Material TPU, EVA, Aluminum alloy, Tempered Glass
Description
Safety lock+ magnetic adsorption:New upgrade. With a safety lock on the bottom of the case, you no longer have to worry about the phone being dropped out of the case.Magnetic strong adsorption mobile phone shell automatic closing, easy to assemble.
Anti-Spy Screen: This Screen Protector will keep your personal and sensitive information safe from strangers in portrait or landscape viewing modes.

Double Side Tempered Glass:The Privacy Magnetic Phone case has front privacy cover+Transparent glass back cover, shows the Apple logo and the original phone design clearly.

360 full body protection: 360° full-body metal frame + double-sided tempered glass + Camera lens protector. Realize 360° all-round protection. No need to purchase additional screen and lens protection film.

The ultra-thin magnetic adsorption case not supports wireless charging.

Note: Please remove the screen protector if there is a screen protector on your phone, otherwise it will affect the normal use of the phone case.
Package included:
Ready to ship
Shipping Time
Customer Service
If the package does not arrive in time, Please contact our email: support@decoinmind.com
Our representative will get back to you within 24 hours.

View more click

here>>

Customer Service